It is okay to be choosy when it comes to your hair. After all, Quality hair straighteners are among the main things that add beauty and elegance to our personalities. With beautiful hair, you can confidently run your errands with your head held high. And because of this particular reason, choosing the best CHI flat irons that will smoothly and safely straighten your hair is essential.
Amongst the many flat iron brands that exist today, there is one that is quite popular – CHI. This hair care company based in Houston is well known for its superior hair straightener. To show you how dedicated this company is towards bettering the beauty industry, its founder, Farouk Shami, was the first person to invent the CHI ceramic hairstyling iron. The company has also been around for more than three decades. They, therefore, clearly understand their customers' hair needs.
If you look up reviews and testimonials online, you will realize that CHI has the most significant fan base. And this isn't just amongst at-home customers; even some of the salon industry's biggest names speak highly of CHI flat irons. And you will too, only if you give them a chance.
With that being said, choosing a flat iron from CHI's vast collection can be a bit complicated. And this is because we have different hair types and needs. Whether you intend to use any of CHI's straighteners at home or in your salon, below, I have compiled a review of the seven best CHI flat irons for all hair types.
Top 7 Best CHI Flat Irons Reviews
In this section, we are going to analyze the seven best CHI flat irons of 2020. Let's start the analysis.
1. CHI Original 1″ Flat Hair Iron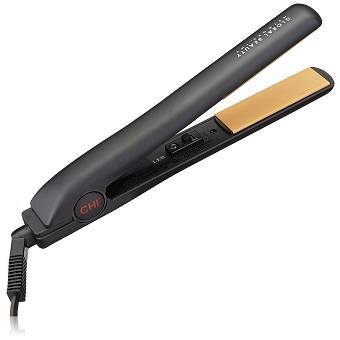 Topping our list is CHI's first flat iron. It is the flat iron that puts CHI on the map. It doesn't matter if you are a hairstylist or new to home hairstyling. This is the go-to flat iron for you. And here is why;
This device is effortless to use. It boasts full titanium infused ceramic plates designed to minimize frizz and reduce static build-up as you use it on your hair. The 1" plates are big enough to straighten your hair quickly. It's the perfect tool for those with busy schedules, either at school or work. The same flat iron can also be used to design wavy flips or curls before going on a date or evening outing with friends. It is the best chi flat iron for all types of hair.
Features and Benefits
The key feature of the Original Chi flat iron is the incorporation of floating plate technology. It makes it very safe to use because no matter how you grip the flat iron, it won't burn or pinch your hair.
CHI Original 1" flat hair iron entails a patented flash heat coil that heats up quickly to a maximum of 392F through infrared heating. It allows the device to penetrate curly and thick hair fast.
For clients who have brittle and thin air, this flat iron utilizes negative ion technology to spread moisture to your hair, reducing the chances of damage.
The flat ceramic iron can be used for different hair styling needs. Whether you want to bend, smoothen, flip or curl your hair, all you have to do is switch on your CHI original 1" flat hair iron.
The 2-year warranty from CHI shows you how confident they are about this product.
What I Like?
In my opinion, this is the perfect flat iron for those starting with at-home hairstyling as well as those interested in a flat iron and are on a strict budget.
Pros
A versatile tool that can be used to make waves, curls and straighten hair
Features a unique heating component that offers unrivaled hair services
The added ergonomic features make it easy to use
The device has a digital display that allows users to control temperatures
The use of far infrared reduces frizz and static
Cons
For a few users, the 1" plates are relatively small.
The original also can't heat more than 392 degrees; this is, however, enough to penetrate the kinkiest hair.
The heat setting can't be adjusted, making it more suitable for beginners only.
Verdict
The CHI Original 1" flat iron can get the job done in the shortest time possible. Compared to other flat iron in its price range, it stands out as one of the best hair straighteners for beginners and those that frequently style their hair.
Are you looking to start styling your hair at home? Then this is the most comfortable flat iron to use.
2. CHI G2 Ceramic and Titanium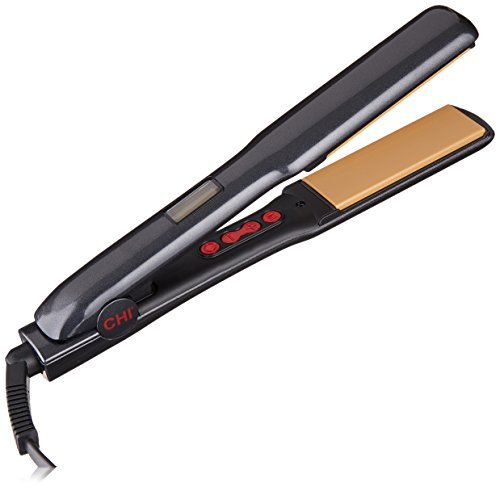 Closely following the Original in terms of popularity is the G2 ceramic and titanium straightener. This fascinating hair styling device is excellent for skilled hairstylists. Due to its incredible functionality and advanced features, it is ubiquitous in salons.
It comprises of premium heaters made of titanium that are built using ceramic-based materials. As a result, the G2 is quite robust and can withstand several accidental drops. Similar to the original, the G2 produces negative ions that reduce frizz, and the curved edges guarantee a lot of flexibility when styling hair.
Features and Benefits
One area that the G2 excels at is reaching a temperature of 425 degrees. It ensures that it can penetrate the most stubborn and ragged locks and transform it into silky straight hair.
The G2 also features a slim and compact design. Therefore, giving the user maximum control and the ability to reach as close as possible to the root hairs.
Fast heat up with no downtime is an added advantage of using the G2 over other flat iron. If you are running late in the morning, it will come through for you.
A smart control feature integrated into the G2 allows users to adjust the temperature for all hairstyles. There is also a digital display that shows the current heat setting. It ensures safety when using the device.
The stylish and ergonomic design of the G2 guarantees that you will get frizzy-free, silky, and shiny hair. Your hair preparation experience will be better than when using other flat iron.
What I Like?
The G2 draws acts as a middle ground between beginner and professional hair straightener. What I loved most about this flat iron is the LCD digital display. On this screen, you can keep track of the temperature and stick to a range that suits your hair type.
Pros
It incorporates a temperature adjustment knob
Durability is guaranteed thanks to the strong ceramic build
Very easy to use
The G2 comes with a swivel cord that can be used for dual voltage
The plates are made with curved edges to improve ergonomics
Cons
A bit costly but worth every penny
The extension cord is fairly short
Some users have complained that the model is snaggy at times
Verdict
When using the G2, you eliminate guesswork when straightening your hair. With this gadget, landing the perfect hairstyle is very easy. If you have thin hair, you can keep the heat range low and vice versa if you have heat resistant hair. The odds of burning your hair are very low with the G2.
Do you crave the best chi hair straightener for fine hair that will serve you all year round? The G2 will do all this and much more.
3. CHI PRO G2 Digital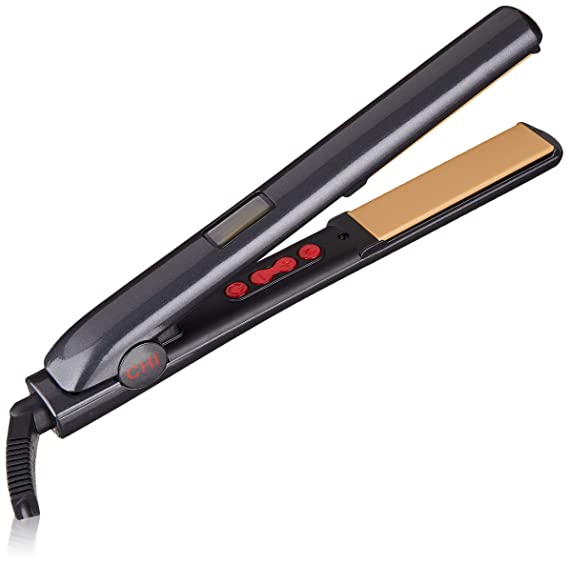 Now that we have covered CHI flat iron for beginners and soon-to-be professionals, it's to bring out the big guns. Expert hair stylists mostly use CHI PRO G2 Digital. The model incorporates titanium infused ceramic plates. This unique combination enhances the strength of the flat iron while improving the hair preparation experience.
This device has one of the best ergonomic designs amongst all flat iron. It can be held in any design that you consider ideal, and it will still perform as expected. It also has a higher maximum heating capacity of 425F, which can be used on any hair type.
Features and Benefits
The CHI PRO G2 upgraded design makes it ideal for users who are always on the move. Business people, photographers, travel agents, and consultants who are always on the move can benefit from the portability of this device.
Similar to the G2, the PRO version is also made with ceramic plates. It can, therefore, take on a couple of drops. And if taken proper care of, it will serve you for the longest time.
There is a digital temperature display that makes the PRO G2 very easy to read and use. You can also use the same feature to adjust heat settings.
The advanced heating technology ensures your hair is smooth, straight, and most importantly, attractive. You can also prevent overheating, which may result in the burning of one's hair.
What I Like?
The PRO G2 features extra-durable titanium infused ceramic plate. This particular feature makes it a very durable flat iron. And this is what I like most. This flat iron from CHI will serve you and your customers for the longest time possible.
Pros
Has a maximum heating temperature of 425F
Features dual voltage ideal for international travel
A durable flat iron
Heats fast within the first forty seconds
The LCD colors improve the hair preparation experience when using the device
Cons
The maximum heat setting is very high for some hair types
Features advanced settings and not ideal for beginners
Not suitable if you don't have coarse or curly hair
Verdict
If you have been keen during your visits to the salon, this is a widely used model by hairstylists. It performs well and can make different styles. It's a bit pricey, but this is a flat iron that will reward you with smooth hair.
You are tired of buying flat iron that only serve you for a few months before blowing up? The CHI PRO G2 is here to take care of your hair for as long as you want.
4. CHI Expert Classic Tourmaline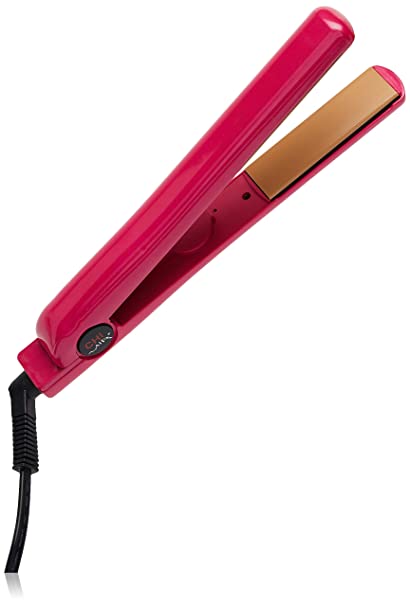 Is your hair prone to frizz, damage, or sensitive to heat? When searching for a flat iron, only consider options that are gentle to your hair. The CHI Expert Classic Tourmaline is a great example of such a device that features innovative technology for premium hair styling.
This particular flat iron brings together characteristics of original models with those of professional ones to create a detailed product for at-home users. Unlike other flat iron, the 1-inch ceramic plate is mixed with tourmaline, which keeps the surface smooth even after years of use.
Features and Benefits
The Expert Classic Tourmaline generates infrared heat, which creates negative ions and, in turn, dissipates moisture all over your hair. You, therefore, don't have to be worried about burning your hair even if you spend a long time straightening it.
There is a dial on the side that allows you to switch from a temperature of 180F to 410F. This flat iron will give you the option to use it on different hair types.
To improve user experience, CHI added an LED indicator on the Expert Classic Tourmaline, which notifies users whether it is hot or cold.
The 9-foot swivel cord gives you plenty of room to play around with the flat iron. You also don't have to worry about tangling as you style your hair.
What I Like?
When you get yourself this flat iron, you get everything from the original with more advanced features such as the heat setting. The tourmaline coating, in particular, is a feature to die for. Because it will ensure the ceramic plate is smooth.
Pros
Comes with a 9-foot swivel cord
Ideal for both experts and beginners
Enjoy frizz-free hair, thanks to the flat iron's particular static electricity.
The quick flash heating system is excellent if, at times, you are in a hurry.
Added ergonomic designs offer unrivaled comfort
Cons
It lacks an automatic shut off system.
The digital control feature stops working after extensive use.
The temperature is limited to a maximum of 410F
Verdict
CHI fans that have used the Original and are looking for an upgrade from this brand, then the Expert Classic Tourmaline is perfect.
Feel like it's time to upgrade your CHI original flat iron? Enjoy more advanced features from the CHI Expert Classic Tourmaline.
5. CHI Tourmaline Ceramic Hair Styling Iron
When you look at the CHI Tourmaline Ceramic Hairstyling, the fire red color is the first thing that captures your attention. What follows is the sleek design and tourmaline technology. Compared to other flat irons, its surface is very smooth, and the extra compound assists in spreading heat evenly on the plate.
It reaches a temperature of 410F and comes with a two-year warranty.
Features and Benefits
Heat distribution technology brings a whole new level of convenience when straightening hair. And you can use it to design different hairstyles.
The ergonomic handles also contribute immensely to making this the best flat iron out there. Customizing hairstyles will be a breeze thanks to these handles.
The 9-foot swivel cord is long enough to reach all corners of your hair. It also gives you the freedom of movement when checking out the progress in the mirror.
A temperature range of 180F and 410F is enough to help you make different designs and styles with your hair.
What I Like?
The appealing material construction is what fascinates me the most. The fire red coating looks amazing when on your hands and this can motivate you to style your hair better. Other than looking so great, the CHI Tourmaline Ceramic Hairstyling Iron is durable and suitable for professional use.
Pros
It integrates both tourmaline ceramic and even heats to produce sufficient heat to straighten your hair
A fast heat-up process makes it the best tool to use when in a hurry
This CHI flat iron can be used to curl, straighten and smoothen hair
A beautiful paint job
Has a dual voltage option
Cons
To operate this device, you will need a converter
Because of its usefulness, it has been heavily imitated. It's advisable you buy CHI flat irons from reputable vendors and stores
Verdict
From the time you plug in this flat iron and set the temperature, it will be ready in 30 seconds. See how fast it is? Also, should you forget to switch it off, the 1-hour timer will? Its ability to reach 410F makes it perfect for nearly all hair types. It's definitely the best chi hair straightener for curly hair.
If you are on the hunt for a fancy and safe flat iron, CHI has got you covered with their Tourmaline Ceramic Hairstyling Iron.
6. CHI Tech 1" Ceramic Dial Hair Styling Iron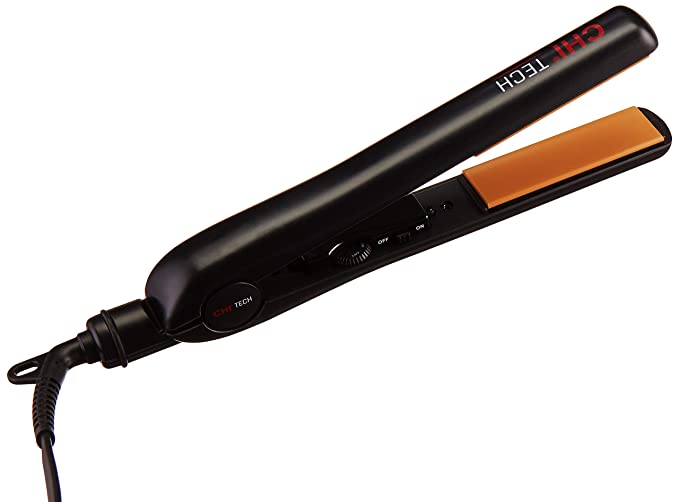 CHI doesn't fall short when manufacturing hair care products. Another great product from this company is the Tech 1" Ceramic Dial Hairstyling Iron. Buyers looking to prepare different hairstyle methods with one tool should consider this flat iron. It's versatile and does a commendable job of making your hair cuticles strong.
Features and Benefits
A versatile flat iron for the modern-day user. If you are a lover of newer fashion trends then the Tech 1" Ceramic Dial Hairstyling Iron can ensure you remain at the top of your game by helping you switch between different hairstyles.
Get pure efficiency from this product thanks to the introduction of ceramic technology in this device.
The adjustable heat settings mean that you can find the ideal heat levels for your hair. Therefore improving the safety of using a flat iron.
It also reaches a maximum heat of 410F which is enough to style different types of hair.
What I Like?
The versatility aspect is what draws most people, myself included in the CHI Tech 1" Ceramic Dial Hairstyling Iron. Being able to use it on different hair types and hairstyles is a feature that you can't get from other flat irons.
Pros
A popular flat iron with plenty of positive reviews
A very long swivel cord
A sleek looking flat iron with smooth plates and handles
Dual voltage
Allows users to adjust heat settings
Cons
The entire device heats up if used for extended hours
The 410F maximum heat temperature is a bit lower compared to other CHI models
Verdict
In the beauty industry, it's hard to find a product that incorporates both versatility and functionality. CHI on the other hand is here to change this perception with their Tech 1" Ceramic Dial Hairstyling Iron. With this flat iron in your hands, nothing is going to stop you from trying as many hairstyling methods as possible.
If you prefer a versatile hair styling flat iron, the Tech 1" Ceramic Dial Hairstyling Iron is the right candidate for the job.
7. MISS UNIVERSE Style Illuminate by CHI Titanium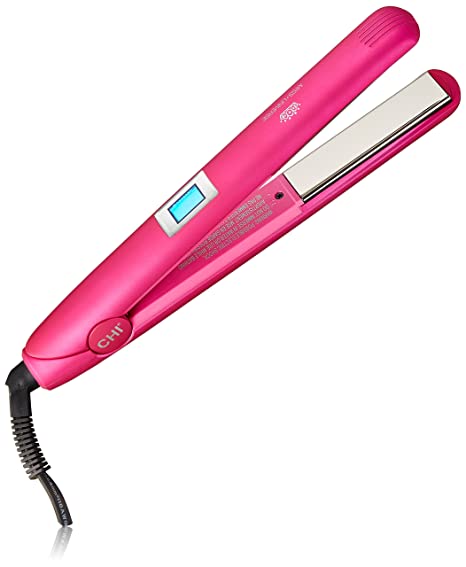 Yes, it's exactly what you are thinking. CHI did design a flat iron based on the Miss Universe Pageant. If you are a fan of pageants then you probably know how hairstyle is considered a vital part of a model's overall look. Before we start reviewing this flat iron, it is worth noting that the hairstyles you get will be worth the Miss Universe Crown.
Based on the theme of this flat iron, it comes in a hot pink color and designed to offer fast styling. This simple yet elegant device is sophisticated enough to give you different looks.
Features and Benefits
You have probably read about flat irons that have plates infused with metal. Well, the MISS UNIVERSE plates are made of actual metal and will serve you for longer than ceramic ones.
During pageants, the time models are given to change to a new look is short. The team of geniuses behind this flat iron wanted to ensure you take the least time when preparing yourself. They, therefore, incorporated a flash quick heating that takes only 20 seconds.
It features a smooth surface that straightens hair swiftly no matter how hard you press it.
There is an LCD to notify you of what temperature setting you are on.
What I Like?
The main feature I like about the MISS UNIVERSE is the theme behind the flat iron. It looks good, designed for all hair types and has a fast heating setting. The titanium plates are also a plus.
Pros
An impressive MISS UNIVERSE theme
The temperature knob is very easy to adjust
Out of all CHI flat iron, the MISS UNIVERSE has the shortest heating time of only 20 seconds
A 9-foot swivel cord
Durable titanium plates
Cons
The main drawback to this flat iron is that there have been incidences of it pulling weak hair out
It's pricier but way better than most models
Verdict
If you are in the modeling industry, this attire should be part of your arsenal. It heats up faster and significantly reduces the time taken to wave, flip, or straighten your hair. If you are a traveler, you can also utilize the dual voltage feature.
Interested in getting a hairstyle that is worth the Miss Universe Crown? This is the perfect flat iron to get your hair done in minutes.
CHI Flat Iron Buying Guide and Additional Information:
After going through the above top 7 CHI flat iron reviews, there are probably those that caught your attention more. However, just before you make the final choice, here is a buyer's guide that will ensure you make an informed purchase.
Which CHI Hair Straightener is the Best?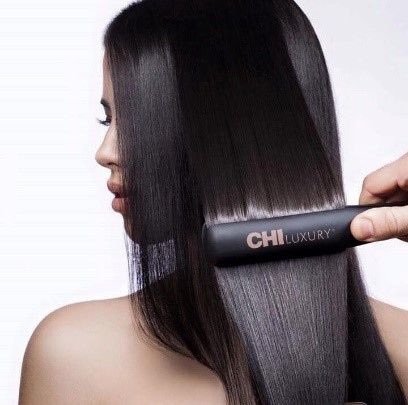 You have observed that not all CHI hair straighteners are created equal from the above chi flat iron reviews. Some focus on beginner at-home users, others on intermediary users, and some are strictly for professionals, such as those common in salons. Therefore, our review only highlighted the best CHI hair straighteners best for all hair types, styles, and users.
If you are just starting out, I highly recommend the CHI Original Flat Hair Iron. For interested buyers that are looking for something more advanced than the original, then the CHI G2 Ceramic and Titanium is an excellent upgrade. Professional hair stylists that want to take their styling game to the next level can consider the CHI PRO G2 Digital. If you want a more versatile flat iron, then the CHI Tech 1" Ceramic Dial Hairstyling Iron is perfect for you. In summary, out of these 7 CHI flat irons, all of them have a unique benefit that you can't find elsewhere. The perfect chi straightener for you should meet your hair type, styling needs as well as convenience and other preferences.
Is CHI Still a Good Flat Iron?
There's no denying that over the years, plenty of flat iron brands have emerged to compete with CHI. However, CHI remains to be the number one manufacturer of the best flat irons in the world. The chi hair straightener from this brand is very popular. You can easily find a CHI flat iron in someone's bathroom or a luxurious salon.
The flat iron from CHI can significantly help you in tending and styling your hair. These devices are also ideal for all types of hair irrespective of whether the user has extensive or little experience with using a chi straightener. The tools from CHI also incorporate the best technology to ensure you style your hair in the fastest and safest way possible.
Why is Chi the Best Flat Iron?
The flat irons from CHI produce adequate heat that seeps deep within every hair strand, straightening and curling it in a matter of seconds. These devices feature ceramic materials that produce negative ions which softness and make your hair bouncy. When you use CHI flat irons regularly, your hair will never feel dry.
And even though they cost more than a regular chi straightener, you can be best assured you are getting your money's worth. They are fast and actually get your hair smooth and straight. If you look up reviews on CHI flat irons, you will realize that they are indeed the best in the market.
What Flat Iron Do Most Salons Use?
Salons provide professional hairstyling services. As a result, they must use only the best products in the market. Because CHI flat irons combine both quality and functionality, they are very common in salons. Another key characteristic of CHI flat irons that make it a favorite tool in salons is their durability. These devices can tolerate extensive use and won't easily break when dropped a few times.
Is CHI or Babyliss Better?
If you have been researching chi straightener, you have probably come across Babyliss. They too are a manufacturer of flat irons. However, if you do find yourself stuck in between choosing a Babyliss or CHI flat iron, then it is essential you know which is better.
Even though both of these brands have their strong points, the best CHI flat irons have a lot to offer compared to Babyliss. For example, CHI hair straighteners are ideal for all hair types whereas Babyliss flat irons are only for coarse hair types. It is also worth mentioning that CHI flat irons have advanced heating systems. They are safer and more efficient.
Is Titanium more Damaging than Ceramic?
The debate on which is better between ceramic and titanium has been there for a while now. And even though all irons are nearly the same, the plate material used is what makes the difference.
Ceramic irons are softer and gentle on your hair. They provide equal heat distribution and won't damage your hair. This is why CHI prefers titanium infused ceramic plates. However, in the case of the MISS UNIVERSE CHI flat iron, the plates used are titanium. There is a reason behind that. Titanium plates are ideal for coarse hair. And because they heat up quickly, if not used by a professional, one can easily damage their hair.
The bottom line is, if you are a professional hairstylist and know how to work your way with titanium flat irons then you are safe. But if that's not the case, stick to ceramic flat irons to avoid hair damage.
Is CHI a Good Brand?
Well, it wouldn't be so popular if it wasn't a good brand. For the years that they have been manufacturing flat irons, CHI has established a reputable brand for itself. Customer satisfaction is their main priority and this is why they strive so hard to design flat irons for all hair types and different styling needs. They even go the extra mile of granting discounts to their clients. Should you have any issues with their products, you can always reach out to their customer care team.
Why Should You Consider CHI Over Other Flat Irons?
Despite the numerous flat iron brands that exist in the market, CHI remains to be an industry leader. These products are used worldwide both at home and in salons. Of you are in a dilemma wondering why you should CHI over other flat irons, kindly note the following;
CHI Appearance Feature
As important as the functionality aspect of a flat iron is, the appearance is a critical factor. CHI is very keen on the design and appearance of their flat irons. Whether the plate is ceramic or titanium, CHI takes the time to incorporate a stylish colour. As you hang it in your bathroom cabinet or pack it in your bag, your CHI flat iron will always arouse the interest of anyone who sees it.
Enduring Nature
Compared to other brands, flat irons from CHI have an enduring nature. Whether you are using it at home or in a professional environment, it will serve you for longer. The colours of the devices hardly fade away and the tourmaline ensures the plates are very smooth.
Comfort to Use
The team at CHI highly consider the flat iron's ease of use before sending their products to the market. One of the things that make these flat irons stand out is their ease of use. No matter how you hold them, you will be able to style your hair in any position you consider comfy.
Heating
CHI flat irons are designed to heat up quickly and distribute the same heat evenly for a stunning hairstyle. Also, these flat irons are designed to take up the right amount of heat to style your hair. With CHI flat irons, provided you know the right temperature for your hair, it is nearly impossible for you to burn your hair with them.
CHI Flat Iron vs GHD Flat Iron
Brands are a big deal when purchasing hair straightener. Two of the most common brands are GHD and CHI. Should you find yourself in a situation where you are stuck in between the two brands, its always best to go back to the drawing table and compare the two. Below we are going to look at the critical differences between CHI and GHD so that you can identify which is more superior.
CHI flat irons come with an integrated Nanotechnology that outshines GHD microprocessors. Also, the CHI heats up to 425F, whereas GHD only reaches 370F. Regarding the overall design, GHD is trying especially with the rounded barrel on most of their models. CHI, on the other hand, has stuck to an ergonomic design that makes straightening hair a breeze. Both, however, feature a 9 feet code.
From the above, it's evident that CHI flat irons rank higher than those from GHD despite being in the same price range.
Is Titanium or Ceramic Better?
Being the two most common plates used in flat irons, it's not picking one over another. If it were possible, most people would use both at the same time. Therefore at the end of the day, you must choose one.
The ideal type of plate highly depends on your type of hair. Titanium products are suitable for type 1 and 3 hairstyles. On the other hand, ceramic plates can be used on all hair types. These are also ideal for professionals such as those who work in salons. Titanium products can be used by anyone and are more cost-effective compared to ceramic ones.
What are the Advantages and Disadvantages of CHI Flat Iron?
This review would be incomplete if we wouldn't weigh the pros and cons of CHI hair straightener.
Let's start with the advantages
It features ceramic technology that allows it to produce moist heat leaving behind silky and shiny hair
It heats up within seconds and can reach a maximum temperature of 425F
CHI's ergonomic design makes using the flat irons comfortable and easy
A long swivel cord ideal for thorough styling
A digital display on which you can monitor your temperature setting
The disadvantages include;
Some clients complain that it is very pricey. But keeping in mind the features you are going to get, this shouldn't be your primary concern.
Secondly, CHI flat irons provide limited curling options.
Frequently Asked Questions(FAQ)
Q1: What is the difference between Chi air and Chi original?
The primary difference between the two is the coating on the plates. The Chi Air uses tourmaline coated ceramic plates, whereas the Chi original uses ceramic plates. The tourmaline ones work similarly to the ceramic only that they feature an increased efficiency in giving you shiny and silky hair.
Q2: Are chi hair straighteners really worth the money?
When making a purchase, you will be tempted to choose the cheaper options. It is a mistake you should avoid when buying flat irons. CHI hair straighteners are indeed expensive, but they are worth every dime. The features are more advanced, and so is the functionality.
Q3: How long should a Chi flat iron last?
A flat iron from CHI can serve you for as long as you take proper care of it. However, because nothing lasts forever, you should replace your CHI hair straightener after every four years to avoid hair damage.
Q4: Is the CHI Flat Iron adjustable?
It depends on the model you intend to buy or use. The CHI original can't be adjusted, whereas the MISS UNIVERSE can.
Q5: Does it shut off automatically?
Some models can automatically shut themselves off, and others can't. For instance, the CHI original has an automatic shut off system, and the CHI Air doesn't.
Final Verdict
Have you decided to treat yourself to a new flat iron? Well, CHI has been in this industry for decades and is well-known for having the best hair styling tools. From the Original CHI flat iron to the MISS UNIVERSE, out of these seven best CHI flat irons, you will find one that meets your hair styling needs. With CHI, you get quality, functionality, durability, and efficiency. No matter your budget, hairstyling needs, or design of flat iron you are after, CHI has got you covered. The days of keeping up with crappy flat irons are over. Upgrade to a CHI flat iron today and create a frizz-free and shiny hair instantly.